Forum
Skip to content
Victoria Forums - Upcoming Events, Lifts, Scene Discussion & more.
---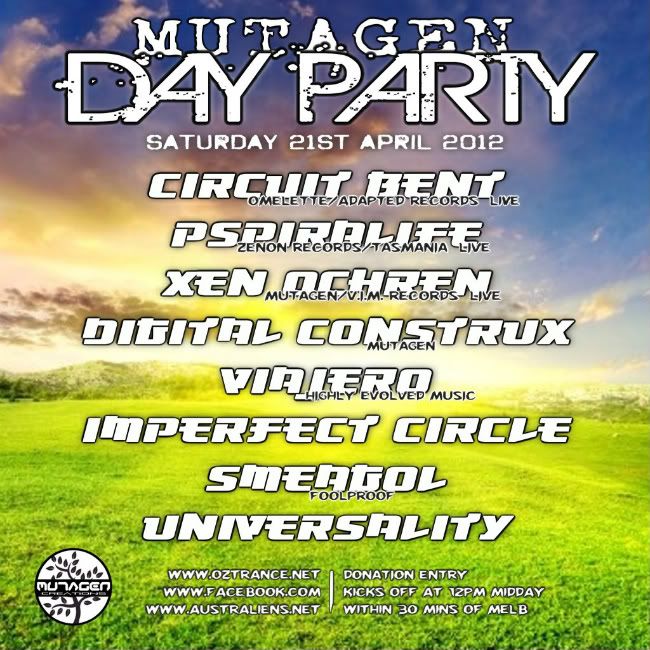 Saturday 21st April
After a much needed hibernation, the Mutagen crew are back with a heap of new energy to bring you the first in a series of new parties. This will be our biggest day party yet, held at a beautiful outdoors location somewhere around Melbourne featuring a stellar lineup of some of the best Interstate and local artists this fine country has to offer! Exact location will be announced closer to date of party!
Donation Entry
Party kicks off at 12pm midday!
Lineup so far..
PSPIRALIFE [Zenon Records] LIVE
CIRCUIT BENT [Omelette/Adapted Recs] LIVE
VIAJERO [Highly Evolved Music]
XEN OCHREN [Mutagen/V.I.M. Records]
IMPERFECT CIRCLE
DIGITAL CONSTRUX [Mutagen]

SMEAGOL [Foolproof]
UNIVERSALITY
GNOME [Astral Lotus]
JBL Sound!
Free Chai/Cofee all day
Toilet on Site
Please take all your rubbish home with you, we are a not for profit crew and dont have the logistics to take care of that much rubbish
.::SeT TiMeS::.
12pm - UNIVERSALITY
1pm - GNOME
2pm - CIRCUIT BENT
3.30 - XEN OCHREN
5pm- IMPERFECT CIRCLE
6.30 - PSPIRALIFE
8pm - VIAJERO
9pm - DIGITAL CONSTRUX
10pm - SMEAGOL
11pm -close-

DiReCtIoNs:




In Car:


From CBD take the Westgate Hwy, Then take Millers Rd exit, follow Millers rd down and take a left at Civic parade, follow to the end and take a left at Beach/Altona rd, follow past Altona sports club and take first right park here, try to stay off the main rd. Walk towards beach and follow your ears.



Public Transport:


Take Werribee Train from CBD get off at Seaholme station. Walk northeast up station st, follow onto Beach/Altona rd and continue northeast. Follow past Altona sports club, take first road on the right. Walk towards beach and follow your ears.
Last edited by
Third Eye
on Thu Apr 19, 2012 8:23 pm, edited 2 times in total.
Posts: 2
Joined: Wed Feb 22, 2012 12:00 pm
---
Yeew! sounds wicked when can we get directions?
Who is online
Users browsing this forum: No registered users and 2 guests