Forum
Skip to content
Victoria Forums - Upcoming Events, Lifts, Scene Discussion & more.
---
Colour of Sound : TREE OF LIFE FESTIVAL 2012 : Australian Launch : MAY 25-27

Welcome to the Tree of Life Festival, Australian Launch Event
Presented by Artifact Events, Colour of Sound & Tree of Life Festival
Date: 25th -27th May 2012
Where: Secret Space within Victoria, Australia
Earlybirds Released 27th March, 100 only for $45.00+bf
1st Round Tickets - $60.00+bf
Head to Moshtix online to secure your tickets, available NOW!
http://www.moshtix.com.au/event.aspx?id=56021
http://www.facebook.com/events/139294869531191/
1st Round Lineup:
DICKSTER (DICK TREVOR) LIVE (Nano) UK
http://www.facebook.com/dj.dicktrevor
Dickster (Dick Trevor) has developed his incredibly fat production style by being at the cutting edge of Psy-Trance since the beginning. Part of the legendary "Green Nuns of the Revolution" who dominated the fullon scene in the mid nineties, he has constantly been productive with projects like the Green Ohm's, AMD (with Aphid Moon), Jumanji (with Eskimo) and his own solo project Dickster as well as countless classic collaborations with the likes of Simon Posford, Tristan, Lucas, James Munro, Annarchy, George Barker, Cosmosis and house remixes with the likes of Danny Howells.His energy, enthusiasm and production are up there with anyone and his psychedelic ear is untainted by the unfavorable evolutions of the genre. he's an avid techno progressive enthusiast also with an abundance of styles and rhythms and electronic goodness.
http://soundcloud.com/dicktrevor/dick-trevor-dj-set-dance-temple-boom-festival-2010
GREEN NUNS OF THE REVOLUTION (Flying Rhino) UK
http://www.myspace.com/greennunsoftherevolution
Green Nuns of the Revolution (GNOTR) are Dick Trevor, Neil Cowley and Matt Coldrick, a psychedelic trance project. Matt Coldrick was also a session guitarist for Gabrielle, and Neil Cowley played keyboards for the Brand New Heavies. An act that started in 1994, G.N.O.T.R. are famous for their full-on entheogenic psytrance. Green Nuns of the Revolution DJ Set
[SOUNDCLOUD]http://soundcloud.com/treeoflife-festival-2012/the-green-nuns-of-the-1[/SOUNDCLOUD]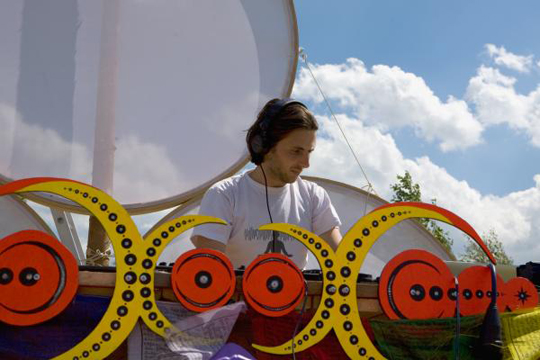 MINDWAVE (LIVE) (Iono) ISRAEL
http://www.facebook.com/mindwavemusic
Mindwave's Progressive psytrance magic was revealed in his debut album Escape from Reality in 2009, which was released at Phonokol. It was a rare and unique demonstration of superb music that opened a channel of communication that lasts till this day. A year after, in 2010, Mindwave released his 2nd album Awaken, which made an even wider path towards people across the world. Before releasing his 3rd album in 2012, Concept of Freedom, Maiko conducted a thorough field research in order to reach the highest level of connection between his mind and the crowd's mind. His report can be heard in this album, where various interpretations of Freedom can be heard, felt and danced. People across the globe have already experienced these sensations in various festivals such as O.Z.O.R.A Festival (Hungary), Vuuv Experience (Germany), Aurora (Greece), Spiritual Healing (Germany), Boom (Portugal) and many more.
So whether you are in the city, nature, island or boat, it is time to discover a sense you have lost, an extension of your human abilities that was just waiting to be used. The way to reach it is through Mindwave.
[SOUNDCLOUD]http://soundcloud.com/mindwave/sets/mindwave[/SOUNDCLOUD]
HYPOGEO (LIVE) (Zenon) ITALY
http://www.facebook.com/hypogeo
HypoGeo is Nicola Grigatti from Italy (one half of Coma Sector). His debut album contains a deep industrial vibe – heavy as f*#k - but is also cerebal and hypnotic, like real trance should be. His sound clearly draws upon his EBM/Industrial roots yet fuses it with crunchy percussion, massive atmospheres, futuristic sound fx and DEEP basslines to make something truly unique...
http://soundcloud.com/treeoflife-festival-2012/hypogeo-zenon-records-italy
SYMBOLIC (LIVE) (Echoes) ISRAEL
http://www.facebook.com/symbolicmusic
'Symbolic' established by Ilan Shemi & Oshry Ben Simon aka DJ Osho during the middle of the year 2011. Since their first production together, they got incredible feedbacks from the dance floors all around the world and immediately the labels show their interest in working together with them. The first signings 'Crystal Clear' went on a compilation called 'Dance Computer' on 'Iboga Records', compiled by one of the world's top Progressive Trance DJ's / Producers, 'Ace Ventura'. Following 'Crystal Clear' was their remix for Ace Ventura & Rocky - Dr. Lupo on Echoes Records, which was number 1 on Beatport Psy-Trance Downloads Chart for several weeks, and become an anthem on dance floors around the world. Two collaboration tracks, one with Liquid Soul called 'Different Reality' and one with Sphera called 'One Step Closer' released on Iboga Records double CD compilation 'Groove Attack' compiled by Liquid Soul.
[SOUNDCLOUD]http://soundcloud.com/symbolicmusic/ace-ventura-zen-mechanics[/SOUNDCLOUD]
DJ OSHO (Echoes) ISRAEL
http://www.facebook.com/djosho
With such a long & vibrant international DJ career, DJ Osho is considers as one of the leading & most innovative DJ's coming out of Israel. Oshry Ben Simon, aka DJ Osho, was born and raised in the sunny southern city, Beer Sheva, and fell in love with electronic music in the early 90's, and has been DJ'ing since the end of 1999. For 3 years he was the resident of the 'Electro Neto' weekly line of parties at the Barcoteque (Q Club), and got to play alongside various artists and DJ's from the International Dance Music scene. He has performed in a wide variety of events, from clubs, private events to large open-air events and festivals in Israel and around the world. His long resume include demanding stages such as, Souleclipse Festival (Turkey), Rhythm of Peace Festival (Morocco), XXXperience (Brazil), Spirit Base Festival (Austria), Progressive Explosion (Mexico), Massive Trance (Mexico), Sonica Reload Festival (Italy), T.A.Z Festival (Israel), Freedom Festival (Portugal), Soul Tech Festival (Mexico), Paramount Club (China), Maxim Club (Israel), Baraka Club (Israel) and in countries, such as Germany, Greece, Denmark, Hungry, Czech Republic, and many more. In 2006 DJ Osho along with Elad Echoes heads into his next venture by forming Echoes Records, as a platform allowing him to release his vision of progressive oriented music. Echoes Records is considered, these days, as one of the top international Progressive Trance & Progressive House labels, played by pretty much all of the leading DJ's and is placed in all of the most respected charts. This platform shares the vision of creating top quality productions from all corners of the globe. The main concept is raising awareness to the most innovative and cutting edge sounds in the available Progressive scene. DJ Osho is well-known for his tight, pressured, yet groovy & pumping, uplifting & energetic DJ sets, master of the mix, DJ Osho fusses tightly sounds that cross all genre boundaries, running from Progressive delights to hard edged Techno trough Tech House.
http://soundcloud.com/djosho/magitman-dj-osho-no-place-to
BEN EVANS (Artifact) VIC
http://www.facebook.com/BenEvansMusic
Ben Evans is a young & vibrant Australian electronic musician, widely known around the industry for his energy and enthusiasm all of which he shares with the world through his passion and commitment to his craft.
Encompassing a vast array of atmospheric and melodic groove from the depths of the underground trance movement keeps Ben on the forefront of his lustful quest for limitless creative pastures and the ultimate heavy session! A regular amongst the electronic music circuit.
Ben has learned from and developed his own unique performance style which combines influences of tribal, techy, progressive and organic sounds driven by slamming drums and psychedelic groove, fine-tuned to tickle your 3rd eye with magical precision. With it fused together in one sweeping mix of styles, colours and sounds in an atmospheric, earthly environment he transforms his audience into a united rhythmic movement.
http://soundcloud.com/benevans/ben-evans-ananda-open-air
ANOMYST (Highly Evolved Music) VIC
http://www.facebook.com/anomyst.benevans
http://soundcloud.com/benevans/anomyst-parvati-release-night
PLAYER ONE (Dooflex) CAIRNS
http://www.facebook.com/groups/122933617754623/
TILT AXIS (Dooflex) CAIRNS
http://soundcloud.com/tilt-axis
WOODSMAN (Open Recs) CAIRNS
& Much more with round 2 announcements
As we all know, everybody around the world speaks of the year 2012 as the year where the world, as we know it, is going to end...
...well.... thats just great news!
It is not necessarily bad, because we believe that every end is, in-fact, a new beginning. A beginning of a new era, an era without any boundaries or cultural beliefs, where we all turn into real, free spirited human-beings
- connected by right - to the TREE OF LIFE.
we invite you all to plant the seeds of life on a magical ground in Victoria, Australia in anticipation and preparation for the wild and wonderful 5 day gathering in Izmir, Turkey in June later this year.
Surrounded by beautiful nature with breath-taking landscapes, we fly away together on a musical journey that will teleport us out of this world and into the next!
We have carefully selected for you some of the leading artists of all time, for music, for decoration and for visuals in order to create for ourselves the perfect transformation into Peace, Unity,and Global Respect!
More information and tickets :
http://www.colourofsound.com.au/
http://www.artifactevents.com/
http://www.facebook.com/colourofsoundmelbourne
http://www.facebook.com/Tree.Of.Life.Festival
http://www.electreelife.com/
Who is online
Users browsing this forum: No registered users and 2 guests