Forum
Skip to content
Victoria Forums - Upcoming Events, Lifts, Scene Discussion & more.
Posts: 1
Joined: Mon Oct 08, 2012 1:18 am
---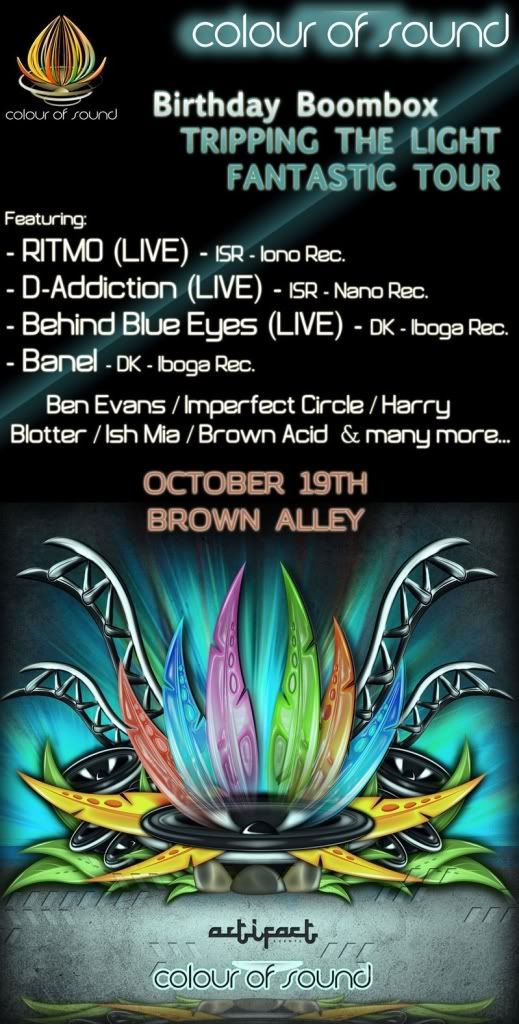 Colour of Sound's
'BIRTHDAY BOOMBOX'
Tripping the light Fantastic Tour
Buy Tickets *Available Now* Moshtix:
http://www.moshtix.com.au/event.aspx?id=59848&skin=
Join the Facebook Event here:
http://www.facebook.com/events/265385523573391/
Fusing cutting edge technology, world class artistry and intelligent musicianship with performance and interaction, experience, expression and imagination; symbiotically engages a powerful energy which in its purest forms presents a platform for our audiences to connect to, in its existence this connection forms a communal togetherness and once our electric family has formed and set in motion for the evening, its lifeline provides unparalleled reactions and vibrationally riveting chakra balancing feelings throughout. fly away with the colour of sound and trip the light fantastic with us on our magical birthday boombox, further details live in less than 5 days.
Presenting an array of some of the worlds finest psygressadelic fractal shapers and all round doofen legends..
+ RITMO (LIVE) [Iono/artifact:bookings] - Israel
http://www.facebook.com/ritmomusic
+ D-ADDICTION (LIVE) [Nano/artifact:bookings] - Israel
http://www.facebook.com/pages/D-Addicti ... 4342226766
+ BEHIND BLUE EYES (LIVE) [Iboga Records] - Denmark
http://www.facebook.com/Iboga.dk
+ BANEL (Dj) [Iboga Records] - Denmark
http://www.facebook.com/Iboga.dk
+ BASIC (LIVE) [HomMega/artifact:bookings] - Israel
http://www.facebook.com/BeBasic
+ BEN EVANS (Dj) (artifact:bookings/colourcrew)
http://www.facebook.com/benevansmusic
+ IMPERFECT CIRCLE (Dj) (artifact:bookings/colourcrew)
http://www.facebook.com/imperfectcircle
+ HARRY BLOTTER (Dj) (artifact:bookings/colourcrew)
http://www.facebook.com/HarryBlotter.aus
+ ISH (Dj) (artifact:bookings/colourcrew)
https://www.facebook.com/ish.mia
+ BROWN ACID (Dj) (artifact:bookings/colourcrew)
https://www.facebook.com/brownacidmusic
+ MORE TRANCE-FLOOR WIZARDRY *ANNOUNCED SOON*
==-----___-- Extrasensory featureS --___-----==
== Performers, Creators , Twirlers, Arts Explosions ==
== Digital Creations, Dripping Installations ==
== Ascension Direction Trampoline Trance-floor ==
== Celebratory Psycakes and Fractal Funbags ==
== An Indoor celebratory bliss-out of energies ==
== The fusion of our Arts and our digital family ==
== Colouring your sounds, and your souls! ==
Performing Nationally, on these dates below:
Melbourne - Colour of Sound - Friday October 19th 2012
Brisbane - Southern Oracle Festival - October 20th - 21st 2012
Sydney - Colour of Sound - Saturday October 27th - 2012
Cairns - Eclipse Festival FNQ - 10th - 16th November
Buy Tickets *Available Now* Moshtix:
http://www.moshtix.com.au/event.aspx?id=59848&skin=
Join the Facebook Event here:
http://www.facebook.com/events/265385523573391/
Our Family:
http://www.Colourofsound.com.au
Video Showcase:
http://www.vimeo.com/artifactaustralia
Artifact on the Web
http://www.artifactevents.com
Lineup Powered by:
http://www.artifactbookings.com.au
Social Media:
http://www.facebook.com/colourofsoundmelbourne
Who is online
Users browsing this forum: No registered users and 5 guests